DISCLAIMER:
Hyper-V is not currently supported by cnMaestro for production deployments.
Pre-Requisites

This document is created for the users interested to run cnMaestro NOC on Hyper-V of Windows 2k8 Server. This document will provide detailed steps to import cnMaestro OVA into Hyper-V.
As part of this exercise we have used following third party software's required for the installation. It is the interest of user to expend below listed software or any other similar software that does the job.
1. 7 zip (or similar) which allows you to extract OVA file.
2. Star Wind V2V (or similar) to convert VMDK to VDH format

Installation of Hyper-V Role on Windows 2k8 Server

This Section provide you Step by Step guide to install Windows Server Hyper-V Role if not performed already.
1. Open Server Manager by navigating to Windows Server 2008 Start > Programs > Administrative Tools > Server Manager

2. Add new Role by clicking on a button "Add Roles"

3. Click Next at Before You Begin Window
4. Select "Hyper-V" at Select Server Roles Window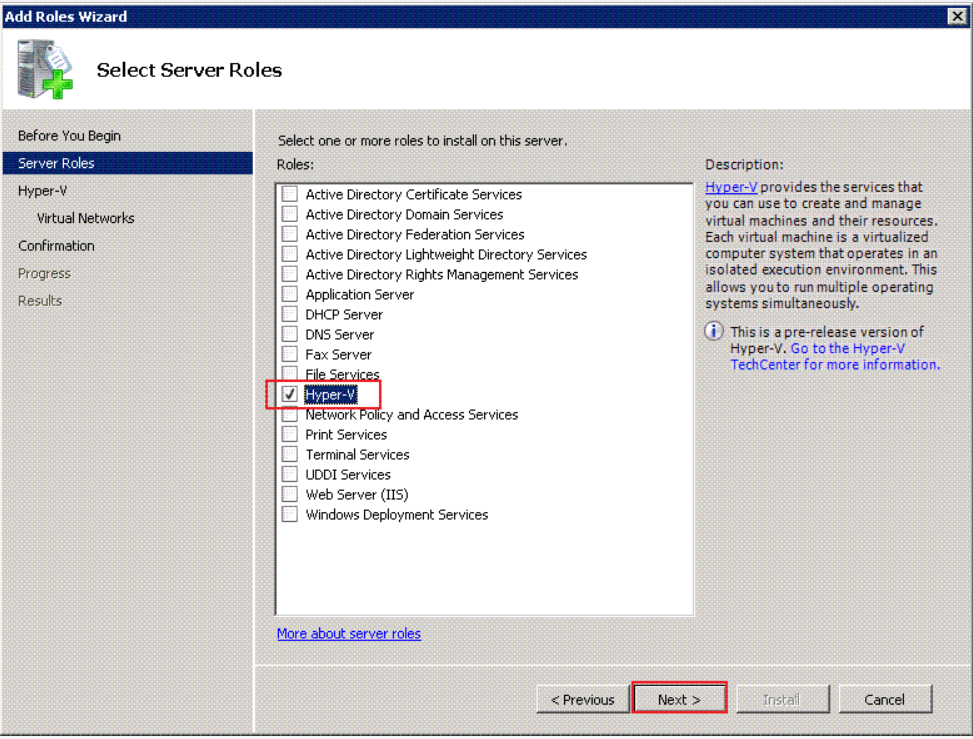 5. Click Nxt at Hyper-V Windows
6. Select the respective Ethernet Cards to "Create Virtual Network" Window
7. Click Install to Start installation.
8. Restart the server post successful Installation of Hyper-V
9. Verify Hyper-V option is shown up under Roles of Server Manager post reboot
Extracting cnMaestro OVA

1. Extract cnMaestro OVA using 7zip (or similar) software which supports OVA format. The extracted files will have both the VMDK and the OVF files.
Example:
2. Ignore OVF and MF files.
3. vmdk format is not supported by Hyper-V of Windows. Hence we should convert VMDK to the format supported by Hyper-V which is VHD. Refer to Section "Convert VMDK to VHD" for the procedures
Convert VMDK to VHD

To convert VMDK to VHD format using the Star wind V2V converter tool, follow the below steps:
1. Launch Starwind V2V converter and click Next.
2. Select the Local file radio button and click Next.
3. Browse and select the VMDK file which need to be converted.
4. Click Next.
5. Select the Microsoft VHD Pre-allocated Image radio button.
6. Click Next couple of times. It may take couple of minutes for the disk conversion to take place.
7. Click Finish when the conversion is complete.
8. Check the folder where VMDK file was present. An additional file in VHD format will be present.

Creating new Hyper-V VM

1. Navigate to Action  New  Virtual Machine on Hyper-V.

2. A New Virtual Machine Wizard will open. The first page is titled as Before You Begin.
3. Click Next.
4. Enter the name of VM in the Name textbox and click Next.
5. Enter the value for memory in the Memory textbox as per the requirement and click Next.
6. Configure Networking – Choose the Virtual Switch which is created in the previous steps and click Next.
7. Attach the virtual Hard Disk (VHD) which we created from the VMDK earlier.
8.Click Finish. It may take few seconds to complete.
9. The VM is created and the CPU needs to be configured. Check the CPU configuration and modify it If required.
Follow below steps to check and modify the CPU configuration:
1. Right click on VM and select Settings.
2. In the Left hand pane, navigate to Processor and configure virtual processors as per requirement.
3. Select Start.
4. Connect to VM Console
5. A sample console is as shown below