We've had our first trial up for a couple weeks. Started in PTMP, with a V5000 and V3000 client at .2 miles or 360 meters. In perfect conditions, it never had an SNR higher than about 12-14. EIRP was a couple dB better than expected so I had to assume probably interference. We know there are other 60Ghz users in the area with Ubiquiti and Mikrotik, but short of low SNR we didn't really find any good way to check for noise. We were running RFC tests to an endpoint at only 250Mbps, and never once had it test without a packet error rate. Also pretty disappointed that it maxed out at a frame rate of 170kfps. And with L2 enabled it does not pass 1Gbps, failed that test every single time with it's processor reporting 99%. More like upper 800's to low 900's.
So we decided to swap it out to a PTP yesterday. We now have two v3000's with the large dish at only 360 meters. Still seeing frame errors overnight, even though the link was showing SNR's into the 25's. Within an hour of the test finishing we started getting some snow. Sticky and wet against the front of the snow shovel, and with only 1 inch of snow by 5am we were offline and still are. Doesn't look like the E2E controller keeps historical data if a link drops. Can I assume it maxed out it's EIRP before dropping? The graph shows how it improves link quality when passing traffic, drops back to -60ish when idling, but then a very quick drop (again only 1 inch of snow.)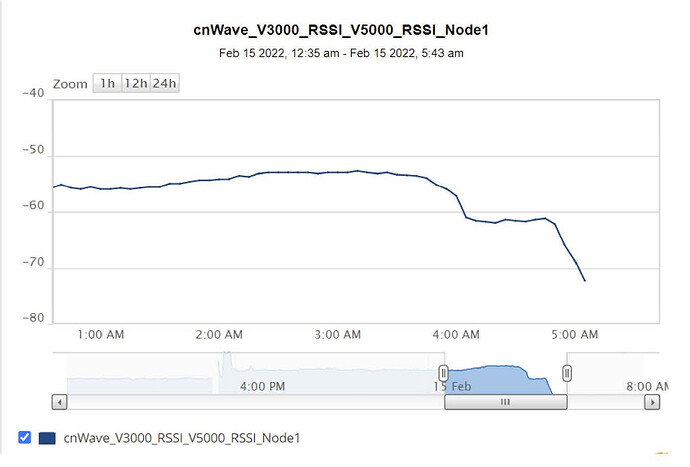 I have a PTP to try at 120 meters. To the other people testing in snow, have you been able to get a link to stay up at closer distances, or does a tiny amount of snow just take these offline at about any distance?