Hi,
I came across this display issue while doing some lab replication. This kind of issues occurs when an upgrade was not 100% successfully completed. If the upgrade is not proper then it might end up in some other issues as well. So, always make sure that the upgrade is successful.
Product: ePMP 1000 and Force 180.
Software version: 2.6.2
Issue: After upgrading the radio to 2.6.2 from 2.6.1 version. It still shows incorrect version in the Software upgrade GUI page. However, at the bottom of the page it show correct version 2.6.2. This seems to be a display issue. This happens with AP & SM. Please refer the below screenshot.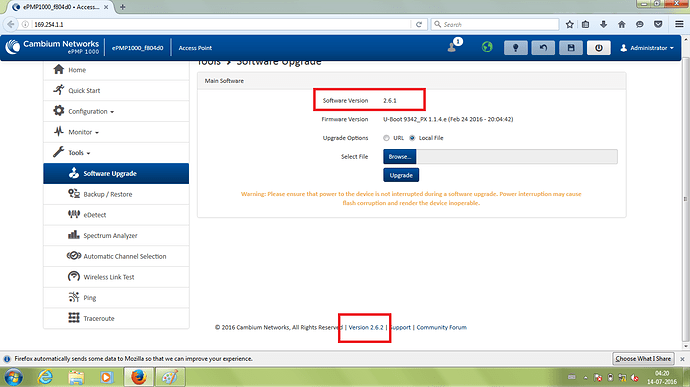 Root Cause: Software did not upgrade properly into the radio.
Solution: Upgrade the radio once again with the same version 2.6.2. After upgrade, check & make sure the upgraded version numbers at these places 1. Tools>>>Software Upgrade>>>Main Software>>Software version (if GPS, then check Active bank), 2. Monitor>>>System>>>Software version (if GPS, then check Active bank) and 3. At the bottom of any GUI page.
Regards,
Vijay Gnanamurtthi