Summary:
This article demonstrates how to upgrade the units in bulk up to 500 which are already on boarded to cnMaestro both Cloud and On-premises. This document can be used when the customer has more number of units and they do not want to upgrade the units manually or one by one from cnMaestro.
Solution:
Step 1: Login to your cnMaestro and navigate to Manage > System Level view > Click on Software Update
Step 2: Select the device type you want to upgrade from the following "Device Type" drop-down list.
Step 3: Select the software image to update from the "Image" drop-down list.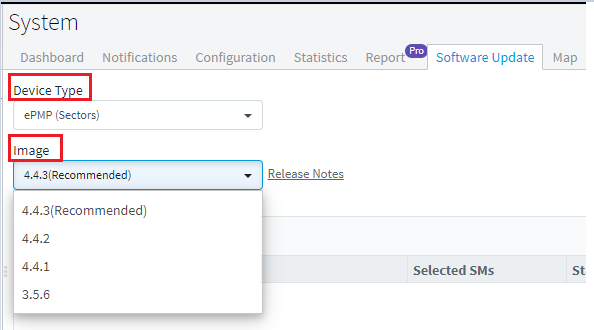 Note: You can choose the recommended software version or anyone from the list.
Step 4: We could select all devices under the system/network/tower/site level or go with specific APs and its associated SMs based on our requirement. If you want all APs and SMs, then click the tick icon in front of "Devices".
Step 5: Set desired Job Options and Click Add Software Job button.
Note:
I have taken the example for ePMP units however you can select all the type of units on-boarded on cnMaestro.
Under job options please ensure you choose SM's first and then AP option.
You can choose the update option for now or schedule it for a later time.
You can change the number of devices to be updated in parallel from the box between 10-500.
Additional Information:
How to perform bulk upgrade by filtering based on the software version:

When you have multiple units running on the same version and you need to upgrade them to a new firmware then you can use this option.
This option can also be used when you have to upgrade the units running on specific version (due to a known bug) to the fixed firmware.
You can choose the device type and then use the filter under Active option and once you select the firmware you will see all the units populate on the box (which are running on the selected firmware).
How to perform bulk upgrade by filtering based on Multiple Selection tab:

When you want to upgrade the units based on the type either All APs or All SMs.