A new release of the LINKPlanner is available from https://support.cambiumnetworks.com/files/linkplanner
Please note that the changes to add new regulatory bands to PTP 670/700 for U-NII-3 and update the 5.8 GHz UK RTTT means that projects created with Channel Plans in this version using these new regulatory bands cannot be read in earlier versions of LINKPlanner. Please ensure that everyone sharing projects with a channel plan are using V4.8.2 or later.
The key features of 4.8.2 are:
New or changed features
PTP 670/ PTP 700 – added support for 02-60 and new color options
Release 02-60 increases the frame duration options and extends the symmetry options on HCMP, especially in the lower bandwidths. The change to the frame durations has resulted in small changes in the throughput, which may either slightly increase or decrease the predicted throughput depending on the link configurations.
Added support for Asymmetry Expert mode
The Expert mode is available in HCMP mode and allows users to choose the number of slots in downlink and uplink for each slave individually.
To switch on Expert mode in LINKPlanner set the new TDD Frame Mode option on the Access Point Equipment to Expert and then set the total number of DL and UL Timeslots to be used on the AP. The total number available is dependent on the bandwidth and the SM Range.
When Expert mode is selected a new pane is available called Subscriber Module Slot Allocation. The DL Slots Request and UL Slots Request columns set the number of slots for each slave in each direction. The maximum number of slots in each direction is 15.
The DL Slots Limit and UL Slots Limit are used by the product to allocate any unallocated slots, for example if some slaves have not yet been connected, e.g. if Max Slaves Allowed is greater than the number of slaves connected. LINKPlanner only predicts the performance with respect to what is allocated, but allows these values to be configured, as they are included in the installation report and can be used during commissioning.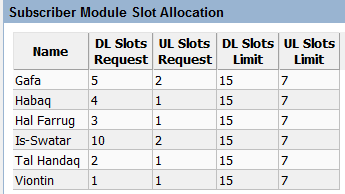 On the right hand side of the Subscriber Module Slot Allocation pane, LINKPlanner provides a summary of the slot usage and reports the Frame Duration. When planning collocated or contiguous Access Points it is important to use the same Frame Duration for all Access Points, so that the transmissions will be synchronized to avoid self- interference.
The Total number of slots is the sum of the DL Timeslots and UL Timeslots allocated at the Access Point. LINKPlanner will reserve one slot in each direction for each slave configured under Max Slaves Allowed. If the number of slaves connected is less than this value the remaining reserved slots is shown as Total reserved slots.
The Total allocated slots is the sum of the DL Slot Requests and UL Slots Requests for all slaves. The Remaining DL or UL slots shows the number of slots that are still available to be allocated to any of the slaves.
Added support for PTP 700 color options
PTP 700 is now offered in either Desert Tan or Green in addition to the existing White version. The color can be selected within LINKPlanner, which will limit the antenna options to those of the same color. The PTP 700 C+I is only offered in the integrated version for the new colors, for external antennas please select PTP 700 C-Only. Most variants of the PTP 700 C+I White connectorized radios are now obsolete.
Added support for 5.8 GHz FCC U-NII-3 and Canada RSS-247 updates

This introduces new country variants. Projects with channel plans for PTP 700 HCMP or PTP 670 HCMP saved in V4.8.2 or later cannot be opened in earlier versions of LINKPlanner
Existing PTP 670 suffix A radios can continue to work with the old U-NII-3 (or Canada RSS-247) rules. LINKPlanner projects created in V4.8.1 or earlier and set to United States or Canada (or the other FCC dependent countries), will open in V4.8.2 showing the country with a suffix of either 15.247 or RSS-247 Annex 8, to show that they are using the old rules.
New PTP 670 suffix B radios must use the new rules (shown without any suffix). PTP 700 radios do not support the new rules and are therefore shown with the old rule suffix.
PTP 650 as a retired product does not support the new rules, but in software release 01-46 it will be able to use the same region code if it is paired with a new PTP 670 and therefore has the option to select a 15.407 (or RSS-247 Issue 2) suffix variant to enable the impact of the new region code to be modelled.
Updated PTP 48670 variant parameters and added "Other" country option at 4.8 GHz
The "Other" and "Mexico" 4.8 GHz regulations have been expanded to cover 4700 to 4900 MHz, which has necessitated a change in the integrated antenna, which is slightly lower in gain, however the transmit power has been increased by 1 dB to 29 dBm and small improvements in sensitivity.
Added a warning regarding required software loads when TDM options are enabled
TDM is not supported with version 02-60 software and therefore the warning will show which software loads are valid
Removed FCC and IC parts from PTP 670 ATEX/HAZLOC
The PTP 670 ATEX/HAZLOC radios do not support the new U-NII-3 regulations and therefore cannot be sold into United States, associated FCC countries and Canada
Added Canada for PTP 650/670/700 at 5.1 GHz
cnReach

Added further 220 MHz FCC Band Setting options
LINKPlanner now supports the 217 – 220 MHz and the 220 MHz Service in addition to the AMTS band. Please note that these new bands require users to comply with FCC Height Above Average Terrain (HAAT). LINKPlanner provides guidance with respect to when a link may violate the HAAT regulations but does not complete a full HAAT analysis, further guidance on the HAAT requirements and calculations can be found in the LINKPlanner User Guide at http://linkplanner.cambiumnetworks.com/doc/fcc_haat.html
Updated 220 MHz AMTS transmit frequency list to match FCC requirements

Transmit frequencies from earlier versions will need to be updated

ePMP

Added 5.9 GHz to PMP
Updated Force 300-25 sensitivity levels
This change improves the sensitivity of the Force 300-25 and hence most predictions should improve throughput.
PMP 450 – added support for Rel 15.1.5

PMP 450m added 30 and 40 MHz bandwidths in FCC and Canada at 5.1 to 5.4 GHz
PMP 450b corrected FCC and Canada transmit powers in line with Grant information
This change reduces the transmit power available for both the PMP 450b Mid-gain and PMP 450b High Gain in the 5.1 to 5.8 GHz bands for most bandwidths for United States, Other-FCC and Canada to comply with type approval.
Added 15 MHz to 2.4 GHz band in United States and Canada
PTP 550

Updated sensitivity levels
This change improves the sensitivity of the PTP 550 and hence most predictions should improve throughput.
Corrected frequency ranges, which removes support for 5.3 GHz
The lower edge of the 5.1 GHz band has been increased for some countries. It is now 5180 MHz across all countries, which removes some bandwidth combinations from the 2+0 configuration.
PTP 820

Added PTP 820G RFU-A 60 MHz 2+0 XPIC and 2+0 Cross-Polar options
Updated PTP 820 Bench Test Kits in Optional Extras
Added last order date to four foot 23 GHz and two foot 28 GHz NA & CALA antennas which are pending obsolete
This affects N230082D044 and N280082D045, which can no longer be ordered after 23 September 2018
General

Added a Fresnel Zone Clearance column to the PTP and PMP links tables
This shows the minimum height between the lower edge of the Fresnel zone (the blue area on the Path Profile) and the terrain plus obstruction height.
A negative height indicates that the path has Fresnel zone obstruction and will have Excess Path Loss. The tables can be sorted on this column so that users can quickly see any obstructed paths and those where there is marginal clearance. If the clearance is quite small then the path should be reviewed to determine whether there are potential buildings or trees in that location which may obstruct the path.
Updated Optional Extras for cnReach and PTP 550
Added NB-N500007A-US N500 AC Power Supply, Line Cord for cnReach products and WB 3177 Tyco/Amp RJ45, 100 pack and WB 3211 Tyco/Amp Crimp Tool for the PTP 550
Removed RTTT frequency notch from UK 5.8 GHz band on all current products
Bug Fixes
Removed PMP SM ATPC enhancement as over-predicting actual mod mode usage
PMP Networks which are planned with added interference at the Access Point, with subscribers which are not on full transmit power, are likely to show lower uplink modulations modes and hence lower UL Throughput, as LINKPlanner was over-predicting the fade margin for subscribers transmitting at lower powers. In areas of higher interference, it may be advised to consider using a slightly higher SM Receive Target Level. Subscribers transmitting at full power are not affected. In the absence of interference unless the SM Receive Target Level has been reduced then although subscribers may show a lower fade margin in the Performance Details, the modulation mode should not be affected.
Added PMP 450/450i/450m sensitivity dependence on SM Receive Target
The PMP 450 family of Access Points, in a similar manner to HCMP Access Points have a finite dynamic range and the sensitivity of each modulation mode is dependent on the SM Receive Target Level. If the SM Receive Target Level is set above -48 dBm the sensitivity of the AP will start to degrade, especially for subscribers which can't meet the SM Receive Target Level. Increasing the SM Receive Target Level too high may not provide the performance improvements expected. The impact of the change of sensitivity is incorporated into LINKPlanner and will be shown in the performance analysis.
Corrected PTP 670 HCMP transmit power and sensitivity levels
PTP 670 HCMP was incorrectly showing a maximum transmit power of 28 dBm, this has been corrected to 27 dBm and updates have also been made to the sensitivity levels.
Corrected PTP 670/700 HCMP channel plans to match product default plans
Some of the channel plans in LINKPlanner did not match the default plans in the PTP 670/700 products. These have now been updated and a 10 MHz raster option has been added for 20 MHz bandwidth. The PTP 670/700 products can operate on channels which are not on the default product plan, therefore any channels configured in existing projects will be maintained, however if the channel plan is adjusted it will change to the new channel plan and existing channels will be lost.
Corrected 5.8 GHz Norway PMP license to use 36 dBm EIRP limit for the SM as well as AP
Corrected font issue in the Reports Contents list and SM ordering in AP Proposal reports summary table
Ensured that the project can be saved when an SM is changed from one AP to another
Ensured that AP and SM refresh correctly when site max height is changed
Prevent users from creating zero length PMP links. An SM must be at least 10m from an AP.