Hello,
One of our deployed 450M APs (running 15.1.3), which has been working well for months with 90+ SMs, suddenly stopped doing any mu-mimo.
A multi-vc link test used to give a 200+ Mbps result, but now it is ~50 Mbps, and 100% of the VCs have a slot group size of 1 (ungrouped). When I look at the sounding statistics, almost all of the VCs have a channel distortion of around -8,-15, and are sounding state 4 (UNTRUSTED)" whereas our working 450M APs will show sounding state 3 (TRACKING), and with lower distortion values.
I ran spectrum analysis from the AP as well as a few of its SMs, and the channel we are on looks perfectly clean.
Anyone have any ideas?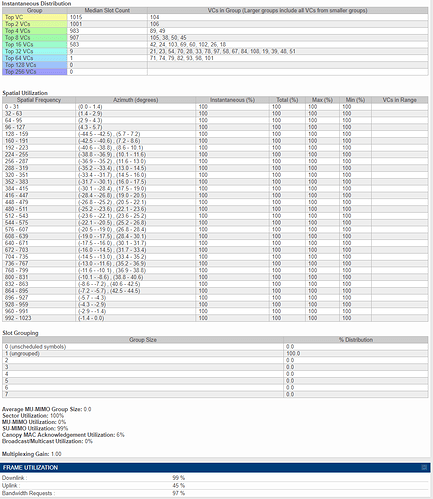 DL: VC   18, reference SF: 2048 (INVALID), soundingState  4 (UNTRUSTED), soundingFault  9 (VC_CEST+CHANNEL_DISTORTION), mumimoVetoCount  0, channelDistortion { -8.61,-15.45}, nullingSNR   0.00,  cnResponseCountSM      0, cnResponseCountAP      0, missedTagCount      0 
DL: VC   19, reference SF: 2048 (INVALID), soundingState  4 (UNTRUSTED), soundingFault  9 (VC_CEST+CHANNEL_DISTORTION), mumimoVetoCount  0, channelDistortion { -8.23,-12.40}, nullingSNR   0.00,  cnResponseCountSM      0, cnResponseCountAP      0, missedTagCount      0 
DL: VC   20, reference SF: 2048 (INVALID), soundingState  4 (UNTRUSTED), soundingFault  9 (VC_CEST+CHANNEL_DISTORTION), mumimoVetoCount  0, channelDistortion { -7.64,-14.57}, nullingSNR   0.00,  cnResponseCountSM      0, cnResponseCountAP      0, missedTagCount      0 
DL: VC   21, reference SF: 2048 (INVALID), soundingState  4 (UNTRUSTED), soundingFault  9 (VC_CEST+CHANNEL_DISTORTION), mumimoVetoCount  0, channelDistortion { -6.47,-10.58}, nullingSNR   0.00,  cnResponseCountSM      0, cnResponseCountAP      0, missedTagCount      0 
DL: VC   22, reference SF: 2048 (INVALID), soundingState  4 (UNTRUSTED), soundingFault  9 (VC_CEST+CHANNEL_DISTORTION), mumimoVetoCount  0, channelDistortion { -8.63,-14.72}, nullingSNR   0.00,  cnResponseCountSM      0, cnResponseCountAP      0, missedTagCount      0 
DL: VC   23, reference SF: 2048 (INVALID), soundingState  4 (UNTRUSTED), soundingFault  9 (VC_CEST+CHANNEL_DISTORTION), mumimoVetoCount  0, channelDistortion { -8.97,-16.23}, nullingSNR   0.00,  cnResponseCountSM      0, cnResponseCountAP      0, missedTagCount      0 
DL: VC   24, reference SF: 2048 (INVALID), soundingState  4 (UNTRUSTED), soundingFault  9 (VC_CEST+CHANNEL_DISTORTION), mumimoVetoCount  0, channelDistortion { -8.55,-15.08}, nullingSNR   0.00,  cnResponseCountSM      0, cnResponseCountAP      0, missedTagCount      0 
DL: VC   25, reference SF: 2048 (INVALID), soundingState  4 (UNTRUSTED), soundingFault  9 (VC_CEST+CHANNEL_DISTORTION), mumimoVetoCount  0, channelDistortion { -8.64,-15.10}, nullingSNR   0.00,  cnResponseCountSM      0, cnResponseCountAP      0, missedTagCount      0 
DL: VC   26, reference SF:  377 (VALID), soundingState  2 (ASSESSING), soundingFault  9 (VC_CEST+CHANNEL_DISTORTION), mumimoVetoCount  0, channelDistortion { -9.79,-18.97}, nullingSNR   0.00,  cnResponseCountSM      0, cnResponseCountAP      0, missedTagCount      0 
DL: VC   27, reference SF: 2048 (INVALID), soundingState  4 (UNTRUSTED), soundingFault  9 (VC_CEST+CHANNEL_DISTORTION), mumimoVetoCount  0, channelDistortion { -9.01,-15.22}, nullingSNR   0.00,  cnResponseCountSM      0, cnResponseCountAP      0, missedTagCount      0 
DL: VC   28, reference SF: 2048 (INVALID), soundingState  4 (UNTRUSTED), soundingFault  9 (VC_CEST+CHANNEL_DISTORTION), mumimoVetoCount  0, channelDistortion { -8.83,-18.45}, nullingSNR   0.00,  cnResponseCountSM      0, cnResponseCountAP      0, missedTagCount      0 
DL: VC   29, reference SF: 2048 (INVALID), soundingState  4 (UNTRUSTED), soundingFault  9 (VC_CEST+CHANNEL_DISTORTION), mumimoVetoCount  0, channelDistortion { -8.80,-18.16}, nullingSNR   0.00,  cnResponseCountSM      0, cnResponseCountAP      0, missedTagCount      0 
DL: VC   30, reference SF: 2048 (INVALID), soundingState  4 (UNTRUSTED), soundingFault  9 (VC_CEST+CHANNEL_DISTORTION), mumimoVetoCount  6, channelDistortion { -9.52,-13.10}, nullingSNR -32.78,  cnResponseCountSM  39386, cnResponseCountAP    907, missedTagCount      0 
DL: VC   31, reference SF: 2048 (INVALID), soundingState  4 (UNTRUSTED), soundingFault  9 (VC_CEST+CHANNEL_DISTORTION), mumimoVetoCount  0, channelDistortion { -8.73,-15.41}, nullingSNR   0.00,  cnResponseCountSM      0, cnResponseCountAP      0, missedTagCount      0 
DL: VC   32, reference SF: 2048 (INVALID), soundingState  4 (UNTRUSTED), soundingFault  9 (VC_CEST+CHANNEL_DISTORTION), mumimoVetoCount  0, channelDistortion { -8.42,-14.97}, nullingSNR   0.00,  cnResponseCountSM      0, cnResponseCountAP      0, missedTagCount      0 
DL: VC   33, reference SF: 2048 (INVALID), soundingState  4 (UNTRUSTED), soundingFault  9 (VC_CEST+CHANNEL_DISTORTION), mumimoVetoCount  0, channelDistortion { -8.55,-14.88}, nullingSNR   0.00,  cnResponseCountSM      0, cnResponseCountAP      0, missedTagCount      0 
DL: VC   34, reference SF: 2048 (INVALID), soundingState  4 (UNTRUSTED), soundingFault 13 (VC_CEST+SM_ERROR+CHANNEL_DISTORTION), mumimoVetoCount  0, channelDistortion { -8.23,-16.11}, nullingSNR   0.00,  cnResponseCountSM      0, cnResponseCountAP      0, missedTagCount      0 
DL: VC   35, reference SF: 2048 (INVALID), soundingState  4 (UNTRUSTED), soundingFault  9 (VC_CEST+CHANNEL_DISTORTION), mumimoVetoCount  0, channelDistortion { -7.24,-16.11}, nullingSNR   0.00,  cnResponseCountSM      0, cnResponseCountAP      0, missedTagCount      0 
DL: VC   36, reference SF: 2048 (INVALID), soundingState  4 (UNTRUSTED), soundingFault  9 (VC_CEST+CHANNEL_DISTORTION), mumimoVetoCount  0, channelDistortion { -8.33,-14.74}, nullingSNR   0.00,  cnResponseCountSM      0, cnResponseCountAP      0, missedTagCount      0 
DL: VC   37, reference SF: 2048 (INVALID), soundingState  4 (UNTRUSTED), soundingFault  9 (VC_CEST+CHANNEL_DISTORTION), mumimoVetoCount  0, channelDistortion { -8.43,-15.28}, nullingSNR   0.00,  cnResponseCountSM      0, cnResponseCountAP      0, missedTagCount      0 
DL: VC   38, reference SF: 2048 (INVALID), soundingState  4 (UNTRUSTED), soundingFault  9 (VC_CEST+CHANNEL_DISTORTION), mumimoVetoCount  0, channelDistortion { -8.75,-16.68}, nullingSNR   0.00,  cnResponseCountSM      0, cnResponseCountAP      0, missedTagCount      0 
DL: VC   40, reference SF: 2048 (INVALID), soundingState  4 (UNTRUSTED), soundingFault  9 (VC_CEST+CHANNEL_DISTORTION), mumimoVetoCount  0, channelDistortion { -8.41,-15.00}, nullingSNR   0.00,  cnResponseCountSM      0, cnResponseCountAP      0, missedTagCount      0 
DL: VC   41, reference SF: 2048 (INVALID), soundingState  4 (UNTRUSTED), soundingFault  9 (VC_CEST+CHANNEL_DISTORTION), mumimoVetoCount  0, channelDistortion { -8.00,-12.05}, nullingSNR   0.00,  cnResponseCountSM      0, cnResponseCountAP      0, missedTagCount      0 
DL: VC   42, reference SF: 2048 (INVALID), soundingState  4 (UNTRUSTED), soundingFault  9 (VC_CEST+CHANNEL_DISTORTION), mumimoVetoCount  0, channelDistortion { -8.62,-15.03}, nullingSNR   0.00,  cnResponseCountSM      0, cnResponseCountAP      0, missedTagCount      0 
DL: VC   43, reference SF: 2048 (INVALID), soundingState  4 (UNTRUSTED), soundingFault  9 (VC_CEST+CHANNEL_DISTORTION), mumimoVetoCount  0, channelDistortion { -9.00,-14.90}, nullingSNR   0.00,  cnResponseCountSM      0, cnResponseCountAP      0, missedTagCount      0 
DL: VC   44, reference SF: 2048 (INVALID), soundingState  4 (UNTRUSTED), soundingFault  9 (VC_CEST+CHANNEL_DISTORTION), mumimoVetoCount  0, channelDistortion { -8.30,-16.76}, nullingSNR   0.00,  cnResponseCountSM      0, cnResponseCountAP      0, missedTagCount      0 
DL: VC   45, reference SF: 2048 (INVALID), soundingState  4 (UNTRUSTED), soundingFault  9 (VC_CEST+CHANNEL_DISTORTION), mumimoVetoCount  0, channelDistortion { -8.74,-14.33}, nullingSNR   0.00,  cnResponseCountSM      0, cnResponseCountAP      0, missedTagCount      0 
DL: VC   46, reference SF: 2048 (INVALID), soundingState  4 (UNTRUSTED), soundingFault  9 (VC_CEST+CHANNEL_DISTORTION), mumimoVetoCount  0, channelDistortion { -8.72,-16.60}, nullingSNR   0.00,  cnResponseCountSM      0, cnResponseCountAP      0, missedTagCount      0 
DL: VC   47, reference SF: 2048 (INVALID), soundingState  4 (UNTRUSTED), soundingFault  9 (VC_CEST+CHANNEL_DISTORTION), mumimoVetoCount  0, channelDistortion { -8.68,-13.85}, nullingSNR   0.00,  cnResponseCountSM      0, cnResponseCountAP      0, missedTagCount      0 
DL: VC   48, reference SF: 2048 (INVALID), soundingState  4 (UNTRUSTED), soundingFault  9 (VC_CEST+CHANNEL_DISTORTION), mumimoVetoCount  0, channelDistortion { -8.55,-14.85}, nullingSNR   0.00,  cnResponseCountSM      0, cnResponseCountAP      0, missedTagCount      0 
DL: VC   49, reference SF: 2048 (INVALID), soundingState  4 (UNTRUSTED), soundingFault  9 (VC_CEST+CHANNEL_DISTORTION), mumimoVetoCount  0, channelDistortion { -8.30,-13.07}, nullingSNR   0.00,  cnResponseCountSM      0, cnResponseCountAP      0, missedTagCount      0 
DL: VC   50, reference SF: 2048 (INVALID), soundingState  4 (UNTRUSTED), soundingFault  8 (CHANNEL_DISTORTION), mumimoVetoCount  0, channelDistortion { -8.54,-16.48}, nullingSNR   0.00,  cnResponseCountSM      0, cnResponseCountAP      0, missedTagCount      0 
DL: VC   51, reference SF: 2048 (INVALID), soundingState  4 (UNTRUSTED), soundingFault  9 (VC_CEST+CHANNEL_DISTORTION), mumimoVetoCount  0, channelDistortion { -8.37,-18.60}, nullingSNR   0.00,  cnResponseCountSM      0, cnResponseCountAP      0, missedTagCount      0 
DL: VC   52, reference SF: 2048 (INVALID), soundingState  4 (UNTRUSTED), soundingFault  9 (VC_CEST+CHANNEL_DISTORTION), mumimoVetoCount  0, channelDistortion { -9.00,-17.27}, nullingSNR   0.00,  cnResponseCountSM      0, cnResponseCountAP      0, missedTagCount      0 
DL: VC   53, reference SF: 2048 (INVALID), soundingState  4 (UNTRUSTED), soundingFault  9 (VC_CEST+CHANNEL_DISTORTION), mumimoVetoCount  0, channelDistortion { -8.92,-17.11}, nullingSNR   0.00,  cnResponseCountSM      0, cnResponseCountAP      0, missedTagCount      0 
DL: VC   54, reference SF: 2048 (INVALID), soundingState  4 (UNTRUSTED), soundingFault  9 (VC_CEST+CHANNEL_DISTORTION), mumimoVetoCount  0, channelDistortion { -8.23,-16.68}, nullingSNR   0.00,  cnResponseCountSM      0, cnResponseCountAP      0, missedTagCount      0 
DL: VC   55, reference SF: 2048 (INVALID), soundingState  4 (UNTRUSTED), soundingFault  9 (VC_CEST+CHANNEL_DISTORTION), mumimoVetoCount  0, channelDistortion { -8.42,-18.01}, nullingSNR   0.00,  cnResponseCountSM      0, cnResponseCountAP      0, missedTagCount      0 
DL: VC   56, reference SF: 2048 (INVALID), soundingState  4 (UNTRUSTED), soundingFault  9 (VC_CEST+CHANNEL_DISTORTION), mumimoVetoCount  1, channelDistortion { -8.56,-14.26}, nullingSNR -12.42,  cnResponseCountSM  22938, cnResponseCountAP     40, missedTagCount      0 
DL: VC   57, reference SF: 2048 (INVALID), soundingState  4 (UNTRUSTED), soundingFault  9 (VC_CEST+CHANNEL_DISTORTION), mumimoVetoCount  0, channelDistortion { -8.25,-16.17}, nullingSNR   0.00,  cnResponseCountSM      0, cnResponseCountAP      0, missedTagCount      0 
DL: VC   58, reference SF: 2048 (INVALID), soundingState  4 (UNTRUSTED), soundingFault  9 (VC_CEST+CHANNEL_DISTORTION), mumimoVetoCount  0, channelDistortion { -8.65,-15.37}, nullingSNR   0.00,  cnResponseCountSM      0, cnResponseCountAP      0, missedTagCount      0 
DL: VC   59, reference SF: 2048 (INVALID), soundingState  4 (UNTRUSTED), soundingFault  9 (VC_CEST+CHANNEL_DISTORTION), mumimoVetoCount  0, channelDistortion { -8.69,-16.53}, nullingSNR   0.00,  cnResponseCountSM      0, cnResponseCountAP      0, missedTagCount      0 
DL: VC   60, reference SF:  881 (VALID), soundingState  3 (TRACKING), soundingFault  8 (CHANNEL_DISTORTION), mumimoVetoCount  9, channelDistortion {-10.33,-16.10}, nullingSNR -27.83,  cnResponseCountSM  15332, cnResponseCountAP  16088, missedTagCount      0 
DL: VC   61, reference SF: 2048 (INVALID), soundingState  4 (UNTRUSTED), soundingFault  9 (VC_CEST+CHANNEL_DISTORTION), mumimoVetoCount  0, channelDistortion { -8.76,-17.71}, nullingSNR   0.00,  cnResponseCountSM      0, cnResponseCountAP      0, missedTagCount      0 
DL: VC   62, reference SF: 2048 (INVALID), soundingState  4 (UNTRUSTED), soundingFault  9 (VC_CEST+CHANNEL_DISTORTION), mumimoVetoCount  0, channelDistortion { -9.10,-16.87}, nullingSNR   0.00,  cnResponseCountSM      0, cnResponseCountAP      0, missedTagCount      0 
DL: VC   63, reference SF: 2048 (INVALID), soundingState  4 (UNTRUSTED), soundingFault  9 (VC_CEST+CHANNEL_DISTORTION), mumimoVetoCount  0, channelDistortion { -8.34,-14.44}, nullingSNR   0.00,  cnResponseCountSM      0, cnResponseCountAP      0, missedTagCount      0 
DL: VC   64, reference SF: 2048 (INVALID), soundingState  4 (UNTRUSTED), soundingFault 13 (VC_CEST+SM_ERROR+CHANNEL_DISTORTION), mumimoVetoCount  0, channelDistortion { -8.97,-15.26}, nullingSNR   0.00,  cnResponseCountSM      0, cnResponseCountAP      0, missedTagCount      0 
DL: VC   65, reference SF: 2048 (INVALID), soundingState  4 (UNTRUSTED), soundingFault  9 (VC_CEST+CHANNEL_DISTORTION), mumimoVetoCount 36, channelDistortion { -9.93,-18.72}, nullingSNR -26.11,  cnResponseCountSM  65453, cnResponseCountAP  17421, missedTagCount      0 
DL: VC   66, reference SF: 2048 (INVALID), soundingState  4 (UNTRUSTED), soundingFault  9 (VC_CEST+CHANNEL_DISTORTION), mumimoVetoCount  0, channelDistortion { -9.18,-15.79}, nullingSNR   0.00,  cnResponseCountSM      0, cnResponseCountAP      0, missedTagCount      0 
DL: VC   67, reference SF: 2048 (INVALID), soundingState  4 (UNTRUSTED), soundingFault  9 (VC_CEST+CHANNEL_DISTORTION), mumimoVetoCount  0, channelDistortion { -8.86,-18.11}, nullingSNR   0.00,  cnResponseCountSM      0, cnResponseCountAP      0, missedTagCount      0 
DL: VC   68, reference SF: 2048 (INVALID), soundingState  4 (UNTRUSTED), soundingFault  9 (VC_CEST+CHANNEL_DISTORTION), mumimoVetoCount  1, channelDistortion { -9.20,-17.17}, nullingSNR -19.01,  cnResponseCountSM  10434, cnResponseCountAP     35, missedTagCount      0 
DL: VC   69, reference SF: 2048 (INVALID), soundingState  4 (UNTRUSTED), soundingFault  9 (VC_CEST+CHANNEL_DISTORTION), mumimoVetoCount  0, channelDistortion { -8.76,-18.05}, nullingSNR   0.00,  cnResponseCountSM      0, cnResponseCountAP      0, missedTagCount      0 
DL: VC   70, reference SF: 2048 (INVALID), soundingState  4 (UNTRUSTED), soundingFault  9 (VC_CEST+CHANNEL_DISTORTION), mumimoVetoCount  0, channelDistortion { -8.62,-15.23}, nullingSNR   0.00,  cnResponseCountSM      0, cnResponseCountAP      0, missedTagCount      0 
DL: VC   71, reference SF: 2048 (INVALID), soundingState  4 (UNTRUSTED), soundingFault  9 (VC_CEST+CHANNEL_DISTORTION), mumimoVetoCount  0, channelDistortion { -8.81,-15.87}, nullingSNR   0.00,  cnResponseCountSM      0, cnResponseCountAP      0, missedTagCount      0 
DL: VC   72, reference SF: 2048 (INVALID), soundingState  4 (UNTRUSTED), soundingFault  9 (VC_CEST+CHANNEL_DISTORTION), mumimoVetoCount  0, channelDistortion { -8.35,-14.97}, nullingSNR   0.00,  cnResponseCountSM      0, cnResponseCountAP      0, missedTagCount      0 
DL: VC   73, reference SF: 2048 (INVALID), soundingState  4 (UNTRUSTED), soundingFault  9 (VC_CEST+CHANNEL_DISTORTION), mumimoVetoCount  0, channelDistortion { -8.36,-16.55}, nullingSNR   0.00,  cnResponseCountSM      0, cnResponseCountAP      0, missedTagCount      0 
DL: VC   74, reference SF: 2048 (INVALID), soundingState  4 (UNTRUSTED), soundingFault  9 (VC_CEST+CHANNEL_DISTORTION), mumimoVetoCount  0, channelDistortion { -8.59,-16.40}, nullingSNR   0.00,  cnResponseCountSM      0, cnResponseCountAP      0, missedTagCount      0 
DL: VC   75, reference SF:  269 (VALID), soundingState  3 (TRACKING), soundingFault  8 (CHANNEL_DISTORTION), mumimoVetoCount 120, channelDistortion {-10.68,-15.57}, nullingSNR -20.28,  cnResponseCountSM  58548, cnResponseCountAP  19114, missedTagCount      0 
DL: VC   76, reference SF: 2048 (INVALID), soundingState  4 (UNTRUSTED), soundingFault  9 (VC_CEST+CHANNEL_DISTORTION), mumimoVetoCount  0, channelDistortion { -8.77,-16.15}, nullingSNR   0.00,  cnResponseCountSM      0, cnResponseCountAP      0, missedTagCount      0 
DL: VC   77, reference SF: 2048 (INVALID), soundingState  4 (UNTRUSTED), soundingFault  9 (VC_CEST+CHANNEL_DISTORTION), mumimoVetoCount  0, channelDistortion { -8.64,-16.67}, nullingSNR   0.00,  cnResponseCountSM      0, cnResponseCountAP      0, missedTagCount      0 
DL: VC   78, reference SF: 2048 (INVALID), soundingState  4 (UNTRUSTED), soundingFault  9 (VC_CEST+CHANNEL_DISTORTION), mumimoVetoCount  0, channelDistortion { -8.19,-13.24}, nullingSNR   0.00,  cnResponseCountSM      0, cnResponseCountAP      0, missedTagCount      0 
DL: VC   79, reference SF: 2048 (INVALID), soundingState  4 (UNTRUSTED), soundingFault  9 (VC_CEST+CHANNEL_DISTORTION), mumimoVetoCount  0, channelDistortion { -8.97,-15.41}, nullingSNR   0.00,  cnResponseCountSM      0, cnResponseCountAP      0, missedTagCount      0 
DL: VC   80, reference SF: 2048 (INVALID), soundingState  4 (UNTRUSTED), soundingFault  9 (VC_CEST+CHANNEL_DISTORTION), mumimoVetoCount  0, channelDistortion { -8.33,-16.60}, nullingSNR   0.00,  cnResponseCountSM      0, cnResponseCountAP      0, missedTagCount      0 
DL: VC   81, reference SF:  908 (VALID), soundingState  3 (TRACKING), soundingFault  8 (CHANNEL_DISTORTION), mumimoVetoCount 32, channelDistortion {-10.36,-17.56}, nullingSNR -26.84,  cnResponseCountSM  14915, cnResponseCountAP  20501, missedTagCount      0 
DL: VC   82, reference SF: 2048 (INVALID), soundingState  4 (UNTRUSTED), soundingFault  9 (VC_CEST+CHANNEL_DISTORTION), mumimoVetoCount  0, channelDistortion { -8.90,-15.41}, nullingSNR   0.00,  cnResponseCountSM      0, cnResponseCountAP      0, missedTagCount      0 
DL: VC   83, reference SF: 2048 (INVALID), soundingState  4 (UNTRUSTED), soundingFault  9 (VC_CEST+CHANNEL_DISTORTION), mumimoVetoCount  0, channelDistortion { -8.68,-15.96}, nullingSNR   0.00,  cnResponseCountSM      0, cnResponseCountAP      0, missedTagCount      0 
DL: VC   84, reference SF: 2048 (INVALID), soundingState  4 (UNTRUSTED), soundingFault  9 (VC_CEST+CHANNEL_DISTORTION), mumimoVetoCount  0, channelDistortion { -8.61,-14.77}, nullingSNR   0.00,  cnResponseCountSM      0, cnResponseCountAP      0, missedTagCount      0 
DL: VC   85, reference SF: 2048 (INVALID), soundingState  4 (UNTRUSTED), soundingFault  9 (VC_CEST+CHANNEL_DISTORTION), mumimoVetoCount  0, channelDistortion { -9.51,-17.49}, nullingSNR   0.00,  cnResponseCountSM      0, cnResponseCountAP      0, missedTagCount      0 
DL: VC   86, reference SF: 2048 (INVALID), soundingState  4 (UNTRUSTED), soundingFault  9 (VC_CEST+CHANNEL_DISTORTION), mumimoVetoCount  0, channelDistortion { -8.91,-16.05}, nullingSNR   0.00,  cnResponseCountSM      0, cnResponseCountAP      0, missedTagCount      0 
DL: VC   87, reference SF: 2048 (INVALID), soundingState  4 (UNTRUSTED), soundingFault  9 (VC_CEST+CHANNEL_DISTORTION), mumimoVetoCount 46, channelDistortion { -9.84,-15.65}, nullingSNR -22.74,  cnResponseCountSM  37036, cnResponseCountAP  20948, missedTagCount      0 
DL: VC   88, reference SF:  895 (VALID), soundingState  3 (TRACKING), soundingFault 14 (NULLING_SNR+SM_ERROR+CHANNEL_DISTORTION), mumimoVetoCount 104, channelDistortion {-10.70,-16.30}, nullingSNR -21.27,  cnResponseCountSM  15493, cnResponseCountAP  24668, missedTagCount      0 
DL: VC   89, reference SF: 2048 (INVALID), soundingState  4 (UNTRUSTED), soundingFault 25 (VC_CEST+CHANNEL_DISTORTION+UNSTABLE_SF), mumimoVetoCount  0, channelDistortion { -8.71,-16.48}, nullingSNR   0.00,  cnResponseCountSM      0, cnResponseCountAP      0, missedTagCount      0 
DL: VC   90, reference SF: 2048 (INVALID), soundingState  4 (UNTRUSTED), soundingFault  9 (VC_CEST+CHANNEL_DISTORTION), mumimoVetoCount  0, channelDistortion { -8.97,-16.14}, nullingSNR   0.00,  cnResponseCountSM      0, cnResponseCountAP      0, missedTagCount      0 
DL: VC   91, reference SF: 2048 (INVALID), soundingState  4 (UNTRUSTED), soundingFault  9 (VC_CEST+CHANNEL_DISTORTION), mumimoVetoCount  0, channelDistortion { -8.55,-15.29}, nullingSNR   0.00,  cnResponseCountSM      0, cnResponseCountAP      0, missedTagCount      0 
DL: VC   92, reference SF: 2048 (INVALID), soundingState  4 (UNTRUSTED), soundingFault  9 (VC_CEST+CHANNEL_DISTORTION), mumimoVetoCount  0, channelDistortion { -8.89,-16.67}, nullingSNR   0.00,  cnResponseCountSM      0, cnResponseCountAP      0, missedTagCount      0 
DL: VC   93, reference SF: 2048 (INVALID), soundingState  4 (UNTRUSTED), soundingFault  9 (VC_CEST+CHANNEL_DISTORTION), mumimoVetoCount  0, channelDistortion { -8.24,-15.65}, nullingSNR   0.00,  cnResponseCountSM      0, cnResponseCountAP      0, missedTagCount      0 
DL: VC   94, reference SF: 2048 (INVALID), soundingState  4 (UNTRUSTED), soundingFault  9 (VC_CEST+CHANNEL_DISTORTION), mumimoVetoCount  0, channelDistortion { -8.86,-15.92}, nullingSNR   0.00,  cnResponseCountSM      0, cnResponseCountAP      0, missedTagCount      0 
DL: VC   95, reference SF: 2048 (INVALID), soundingState  4 (UNTRUSTED), soundingFault  9 (VC_CEST+CHANNEL_DISTORTION), mumimoVetoCount  0, channelDistortion { -8.49,-14.69}, nullingSNR   0.00,  cnResponseCountSM      0, cnResponseCountAP      0, missedTagCount      0 
DL: VC   96, reference SF: 2048 (INVALID), soundingState  4 (UNTRUSTED), soundingFault  9 (VC_CEST+CHANNEL_DISTORTION), mumimoVetoCount  0, channelDistortion { -8.75,-15.85}, nullingSNR   0.00,  cnResponseCountSM      0, cnResponseCountAP      0, missedTagCount      0 
DL: VC   97, reference SF: 2048 (INVALID), soundingState  4 (UNTRUSTED), soundingFault  9 (VC_CEST+CHANNEL_DISTORTION), mumimoVetoCount  0, channelDistortion { -7.17,-14.62}, nullingSNR   0.00,  cnResponseCountSM      0, cnResponseCountAP      0, missedTagCount      0 
DL: VC   98, reference SF: 2048 (INVALID), soundingState  4 (UNTRUSTED), soundingFault  9 (VC_CEST+CHANNEL_DISTORTION), mumimoVetoCount  0, channelDistortion { -8.69,-16.46}, nullingSNR   0.00,  cnResponseCountSM      0, cnResponseCountAP      0, missedTagCount      0 
DL: VC   99, reference SF: 2048 (INVALID), soundingState  4 (UNTRUSTED), soundingFault  9 (VC_CEST+CHANNEL_DISTORTION), mumimoVetoCount  0, channelDistortion { -8.99,-16.96}, nullingSNR   0.00,  cnResponseCountSM      0, cnResponseCountAP      0, missedTagCount      0 
DL: VC  100, reference SF: 2048 (INVALID), soundingState  4 (UNTRUSTED), soundingFault  9 (VC_CEST+CHANNEL_DISTORTION), mumimoVetoCount  0, channelDistortion { -7.80,-12.75}, nullingSNR   0.00,  cnResponseCountSM      0, cnResponseCountAP      0, missedTagCount      0 
DL: VC  101, reference SF: 2048 (INVALID), soundingState  4 (UNTRUSTED), soundingFault  9 (VC_CEST+CHANNEL_DISTORTION), mumimoVetoCount  0, channelDistortion { -9.10,-17.03}, nullingSNR   0.00,  cnResponseCountSM      0, cnResponseCountAP      0, missedTagCount      0 
DL: VC  102, reference SF: 2048 (INVALID), soundingState  4 (UNTRUSTED), soundingFault  9 (VC_CEST+CHANNEL_DISTORTION), mumimoVetoCount  0, channelDistortion { -9.49,-14.93}, nullingSNR   0.00,  cnResponseCountSM      0, cnResponseCountAP      0, missedTagCount      0 
DL: VC  103, reference SF: 2048 (INVALID), soundingState  4 (UNTRUSTED), soundingFault  9 (VC_CEST+CHANNEL_DISTORTION), mumimoVetoCount  0, channelDistortion { -9.30,-15.91}, nullingSNR   0.00,  cnResponseCountSM      0, cnResponseCountAP      0, missedTagCount      0 
DL: VC  104, reference SF: 2048 (INVALID), soundingState  4 (UNTRUSTED), soundingFault  9 (VC_CEST+CHANNEL_DISTORTION), mumimoVetoCount  0, channelDistortion { -8.71,-15.55}, nullingSNR   0.00,  cnResponseCountSM      0, cnResponseCountAP      0, missedTagCount      0 
DL: VC  105, reference SF: 2048 (INVALID), soundingState  4 (UNTRUSTED), soundingFault  9 (VC_CEST+CHANNEL_DISTORTION), mumimoVetoCount  0, channelDistortion { -8.80,-15.04}, nullingSNR   0.00,  cnResponseCountSM      0, cnResponseCountAP      0, missedTagCount      0 
DL: VC  106, reference SF: 2048 (INVALID), soundingState  4 (UNTRUSTED), soundingFault  9 (VC_CEST+CHANNEL_DISTORTION), mumimoVetoCount  0, channelDistortion { -8.60,-17.55}, nullingSNR   0.00,  cnResponseCountSM      0, cnResponseCountAP      0, missedTagCount      0 
DL: VC  107, reference SF: 2048 (INVALID), soundingState  4 (UNTRUSTED), soundingFault  9 (VC_CEST+CHANNEL_DISTORTION), mumimoVetoCount  0, channelDistortion { -8.71,-17.32}, nullingSNR   0.00,  cnResponseCountSM      0, cnResponseCountAP      0, missedTagCount      0 
DL: VC  108, reference SF: 2048 (INVALID), soundingState  4 (UNTRUSTED), soundingFault  9 (VC_CEST+CHANNEL_DISTORTION), mumimoVetoCount  0, channelDistortion { -9.22,-15.91}, nullingSNR   0.00,  cnResponseCountSM      0, cnResponseCountAP      0, missedTagCount      0 
DL: VC  109, reference SF: 2048 (INVALID), soundingState  4 (UNTRUSTED), soundingFault  9 (VC_CEST+CHANNEL_DISTORTION), mumimoVetoCount  0, channelDistortion { -8.11,-17.29}, nullingSNR   0.00,  cnResponseCountSM      0, cnResponseCountAP      0, missedTagCount      0 
DL: VC  110, reference SF: 2048 (INVALID), soundingState  4 (UNTRUSTED), soundingFault  9 (VC_CEST+CHANNEL_DISTORTION), mumimoVetoCount  0, channelDistortion { -9.72,-16.24}, nullingSNR   0.00,  cnResponseCountSM      0, cnResponseCountAP      0, missedTagCount      0