Update 10/20/2020
cnArcher 1.5.2 has been officially released. This release also includes support for 450b Retro SMs.
Update 7/14/2020
cnArcher v1.5 beta is now available for Android. To get the app, please go to the cnArcher page in the Play Store and install.
If you are not currently a beta tester, scroll down to the bottom of the cnArcher Play Store page and click "Become a Beta Tester". This can only be done from the Play Store on your phone, and not from a browser.
You can always opt-out of beta testing from the cnArcher Play Store page. Then uninstall and re-install cnArcher to go back to the production version.
What's New
"Quick Align" now supports PTP450 and ePMP in PTP mode
You can use "Quick Align" mode to align PTP450 and ePMP radios in PTP mode. You can align both the master and slave radios in "Quick Align" mode. For ePMP, both the ePTP and TDD modes are supported. For "Quick Align" to work, the radios must already be configured and connected. You cannot use cnArcher to configure PTP links.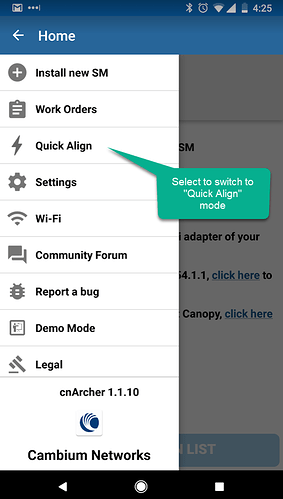 See RSSI history graph on Alignment screen
The alignement screen now shows a 30 second history of "Best RSSI" and "Current RSSI" to help with SM alignment.
Claim cnRanger SIM pack into cnMaestro cloud
You can use cnArcher to claim cnRanger SIM packs into your cnMaestro cloud account, as an alternate to claiming it in cnMaestro GUI. Please select "Onboard" from the cnArcher menu, and enter the MSN of the SIM pack. You can also use the phone camera to scan the MSN fom the SIM pack label.
Miscellaneous Enhancements
"Spectrum Analyzer" feature now works in "Demo mode"
SNR values are displayed after link test for PMP
When PMP SM is connected to PMP450m SM, the spatial frequency indicator is displayed on the "Alignment" page