Configuring SNMP
Cambium cnPilot E-Series support versions 1, 2c, and 3 of Simple Network Management Protocol (SNMP) for reporting purposes only. In other words, SNMP cannot be used for setting values in an E-series in the current Software version.
OIDs supported on E-seies can be seen here:
http://community.cambiumnetworks.com/t5/cnPilot-E-Series-Hotspot-E500/SNMP-Management-What-AP-parameters-can-I-monitor-over-SNMP/td-p/52925
We can configure SNMP through CLI and GUI.
Note:
1. To enbale SNMP traps, we have to configure SNMP trap ip, which will be the ip of trap reciver.
2. To secure SNMP mib request, we can configure read and write community setting.
3. To enable SNMPv3, configure SNMP user. 
CLI Configuration
GUI Configuration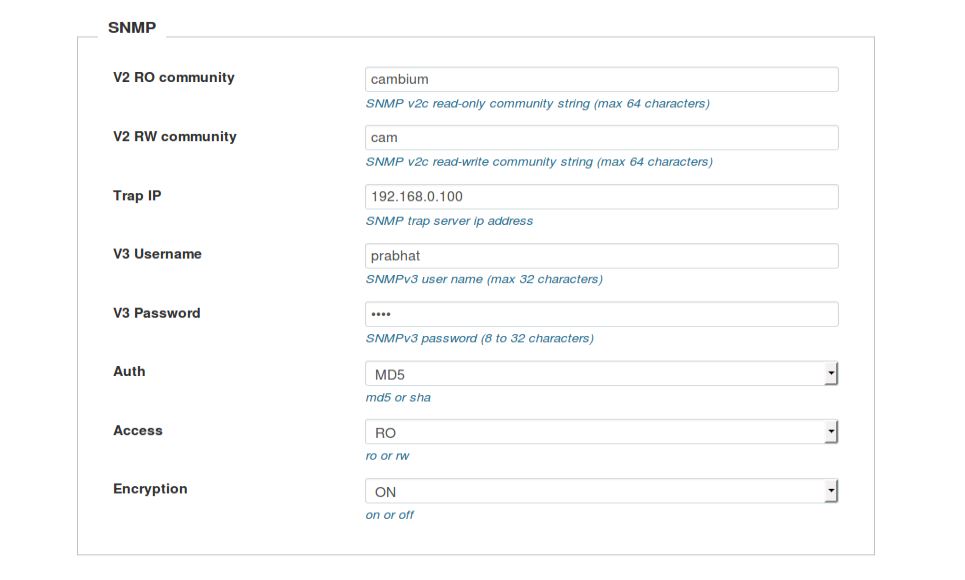 Load MIB file to MIB browser
MIB browser SNMP community string setting
Cambium E-Series SNMP MIBs
AP table view
Radio table view
WLAN table view
Client table view
Mesh client table view
Cambium E-Series SNMP traps view