The first AP Lite began to be sold with firmware 2.4.2.
AP Lite difference lies primarily in the price (almost two times lower than the full version) and the minimum soft-functional limitation. This limitation is the number of user modules (SM), which can be registered on AP.
AP Lite can register only 10-SMs but as the FULL AP supports up to 120 SMs.
AP lite can be upgraded to FULL using an upgrade key, which is bought separately.
Make sure we use the correct part numbers, below is the list of model (ePMP 1000, ePMP2000).
ePMP 1000 GPS Sync AP License Key - Upgrade Lite (10-SM) to Full (120 SM) >> C050900S200A
ePMP2000 AP Lite License Key – Upgrade Lite (10 SM) to Full (120 SM) >> C050900S2KLA
Procedure to upgrade from LITE AP to FULL AP:
>>Obtain an entitlement ID (EID) from your distributor.
>> Login tosupport.cambiumnetworks.comand enter the entitlement ID under License Keys>> Entitlements>> Activate Entitlements
Click on

Check
Click on Activate
>> Enter theEthernet Mac address of the radio, Country, Agree for the Terms and Click on Request Key.
>> Once we click on Request key license gets generated and it will be available under Recent Entitlements as shown below:
>> Copy the generated license key to apply on the radio

>> Login to the radio and go to Tools >> License Management and enter the key >> Save and reboot the AP.

>> The minimum software version needed is 2.6 and above.

>> After the reboot you should see the "Max Registrations Allowed" under configuration> Radio should be 120 instead of 10 but the AP name will still show as AP lite.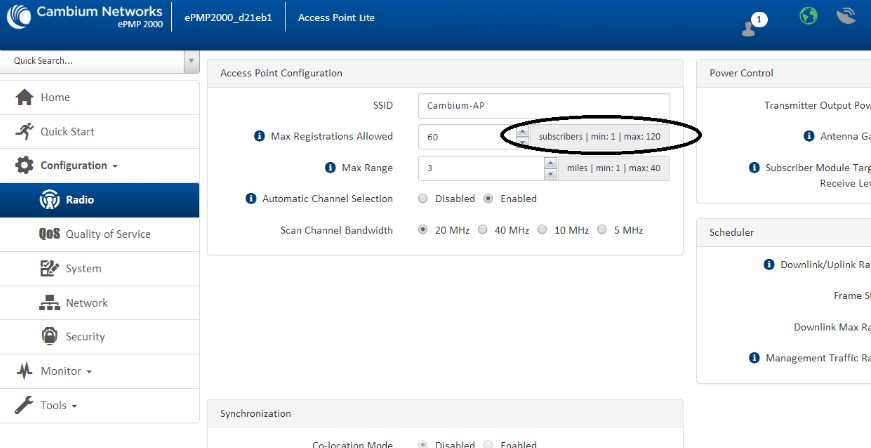 Regards,
Sanjay Kumar.