The key feature of the 6.1.2 release is:
Addition of Tower Sites
Added support for Crown Castle and American Tower site locations
Sites are only available in the United States and Puerto Rico. To display or hide the Tower Sites tick or untick the options in the map display menu.
The sites are only displayed when the right hand menu functions, such as adding sites, links, viewsheds, etc. are disabled. Please remember to disable those functions in order to view the tower site locations.
To view information about a site click on the site and a pop-up window will display the key information about the site.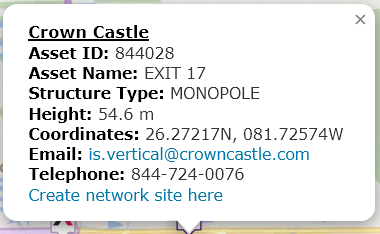 To add a network site click on the "Create network site here" link and the site will automatically be populated into the network site list.
The Network Site table contains a column called Site Owner which is automatically populated for sites created from American Towers or Crown Castle sites, otherwise it is left blank. This is a read only field and cannot be edited.
Bug Fixes
Ensured selections in sites table views clear when switching between them to prevent unexpected deletions
Prevented sharing permissions from being copied or duplicated. All file instances must have their own sharing permissions configured individually
Correct number entry in the SM Range field to allow values below 0.1 to be entered easily
Prevent the user power/EIRP from being set as a string